Rap duo Kids See Ghosts, made up of longtime collaborators Kanye West and Kid Cudi, headlined the main stage at this year's Camp Flog Gnaw music festival. They reunited onstage for their first untelevised live show in over two years. Their performance wasn't just a run through of their new self-titled album, but a reunion of the two's ethereal sound.
The pitch black stage filled with smoke and phone lights when the translucent shipping container-sized box that held West and Cudi arose. No music played, yet the crowd kept screaming. Chants of "Yeezy" and "Cudi" filled the Dodger Stadium parking lot as the music started.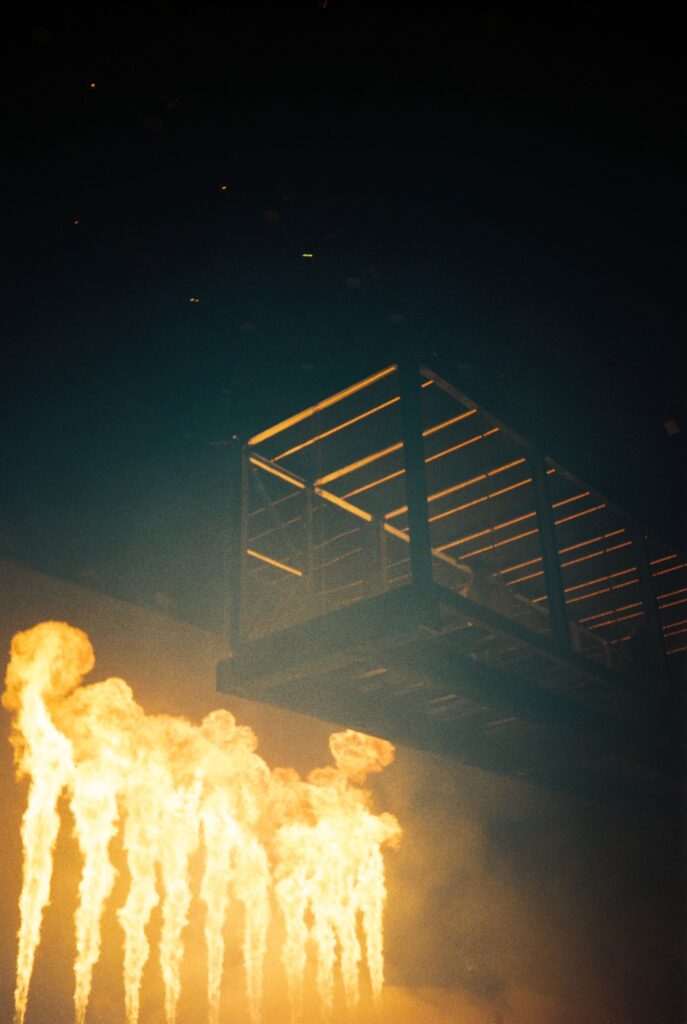 Kids See Ghosts lit up Dodger Stadium late Sunday night
Opening with fan favorite Father Stretch My Hands Pt. 1 off of West's album The Life of Pablo pushed the crowd into a frenzy. Thousands upon thousands of festival goers pressed against the person in front of them, if only to get a few feet closer to the stage. Once the song ended, West and Cudi took some time to talk to the crowd and hype them up for the first ever live performance of their album Kids See Ghosts. It didn't take them long to get back into the music, though, as bass filled album opener Feel the Love started.
For the next twenty-four minutes, West and Cudi worked their musical magic and entranced the crowd through their lyrics and dancing. West may have missed a line here and there, but pulled off ridiculous dance moves all night, proving that he doesn't care about the opinions of others and was just there to have fun and give his all. Cudi, on the other hand, was spot on with every syllable. From his hums to his introspective lyrics, "I'm guessin' I'm just sick of runnin'/All this time searchin' hard for somethin'/I can hear the angels comin,'" Cudi pushed himself to give a perfect performance.
Kanye West (pictured) and Kid Cudi make up duo Kids See Ghosts
After going front to back on their album, West and Cudi continued to play older songs in which they had collaborated. Hits like Heartless, Paranoid, and Pursuit of Happiness (Nightmare) were sung word by word by almost every fan in attendance.
They closed their set by performing Ghost Town, a song from West's eighth studio album, Ye. It features both Cudi and and West's own new G.O.O.D. Music signee 070 Shake. It's calming sample and psychedelic rock vibe didn't stop the crowd from singing their hearts out, but it did stop the pushing. With this song being the closer, West and Cudi were slowly brought down to the stage as they waved to the crowd one last time before hurrying off into the smoky backstage.
As if they hadn't done so already time and time again, West and Cudi solidified themselves as two of hip-hop's biggest rockstars through this performance. They raised the bar in terms of how festival headliners should perform and made sure fans new and old left with an experience, rather than just a show.